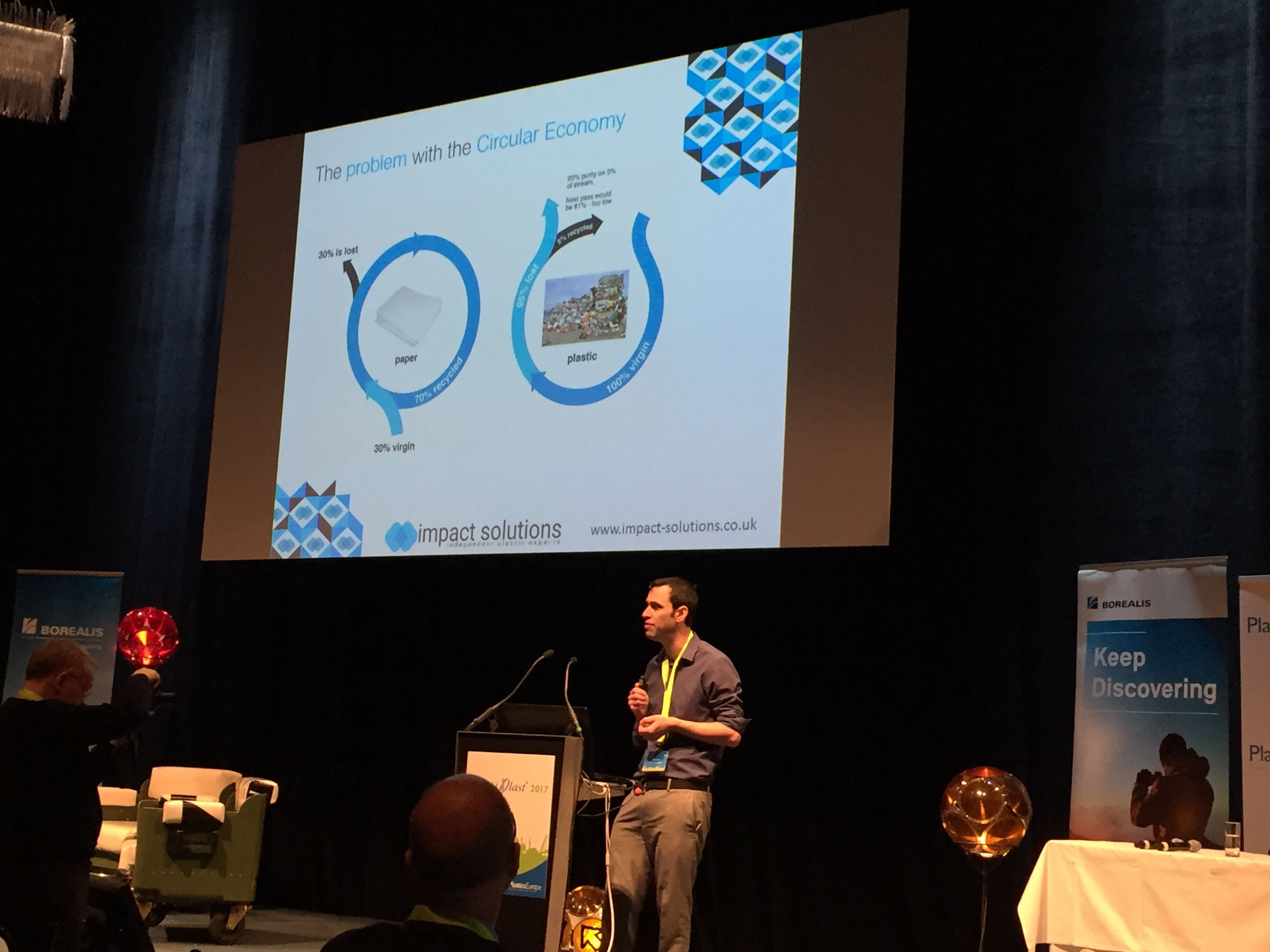 Plastic Recycling – IndentiPlast 2017
It was a great privilege to be invited to present at IdentiPlast 2017, and credit must go to the organisers PlasticEurope for putting on a fantastic event.  There was a good mix of speakers, ample opportunity for networking and great food at both dinners that were put on.
The venue was in a spectacular part of the world and I will be making a trip back to Vienna for sure.  I had a great reaction to my talk on our innovative solution for mixed polyolefin recycling, BOSS, and I look forward to welcoming recyclers from across Europe to visit Impact over the coming months and discover how BOSS can help the circular economy.
Following the first morning session it was clear there were going to be two elephants in the room – The 'I' word (incineration) and the 'B' word (Brexit).  While the former was an ongoing theme and a topic of hot discussion, the later was reserved to make fun of the British contingent in the room.  I've never felt so glad to be Scottish.
Incineration, or energy from waste was hotly debated throughout the first day, with the event livening up in the afternoon panel debate which put together mechanical recycling, energy from waste and policy makers.  The conclusion was clear that all aspects of technology and reprocessing techniques had a role to play in plastic recycling, but in order for that to happen standardisation, regulation and cooperation amongst all parties is required in order to allow the best value to be realised from our plastic waste.
More concerning was discussion about end of life waste requirements which if implemented could severely harm reuse of plastic in our opinion.
Another interesting aspect of day 1 was the talk about recycling rates.  Depending on the speaker it went from 70% recycling to 4% recycling.  We can argue all day about who is right, but the message is clear – we must standardise how we talk about plastic recycling – what is recycling and what isn't recycling.  I had an interesting discussion over lunch following my presentation with a government policy maker of an European country pointing out that the picture of mixed plastic which BOSS is designed to separate is exactly the material they receive in containers from British ports – this being material that can no longer be recovered and is subsequently incinerated.  What is really frustrating is this material contains large amounts of Polyolefin and Impact can show business cases that can return investment in as little as 8 months with profits thereafter exceeding £1 million/annum.
It was also interesting to discuss with European recyclers the challenges their business' are facing, and without fail it was 'quality'.  This is exactly what Impact have designed the Scottish Plastics Recycling Centre of Excellence to address. We hope the model we will be launching over the next 12 months, in Scotland, can be incorporated across Europe in the coming years.  In order to achieve this the support of the major plastic producers will be key, and it was great to see Borealis, Total and Ineos at the event all pledging their clout and resources to enabling the circular economy.
One of the most positive results of the conference in my opinion was the clear preference to try and drive plastic recycling to be economical, through a variety of measures.  Design, innovation and creating end markets are the obvious, but there is now a clear drive from the industry that governments should be looking at taxing non recyclable products in some shape or form, whether its through tax for virgin only products, or those made from non recyclable materials, or simply a tax on carbon.
The most informative slide of the conference came from Antonis Mauropulos of ISWA.  Who knew that you need to use your reuseable plastic shopping bag 8 times before its carbon footprint is lower than a 'single use' bag!  Finally, I can't finish this article without mentioning my favourite slide of the week courtesy of Gerold Breuer of Erema.  The recycled plastic sunglasses were fantastic, as was the slide of the US President.  Of course 'America are always first'.  At least it took the ridicule of the 'B' word momentarily!
Impact will look forward to the next Identiplast with keen interest and thank again the organisers PlasticEurope for a great event.