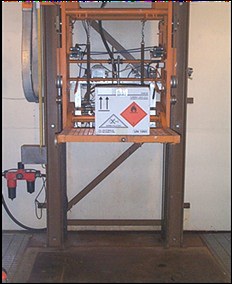 Failure of containers when transporting dangerous chemicals and other hazardous liquids has serious implications to people, property and/or the environment. Strict product safety and quality standards are in place against which such containers are tested to get UN approval. Impact is accredited to carry out a comprehensive range of UN Dangerous Good's testing for liquids & solids on plastic & metal drums & jerricans as well as composite packaging & fibreboard boxes. Impact is one of a handful of European test houses and the only one in the UK that can test with the full range of model liquids and the customer's own products.
 Impact's Expertise: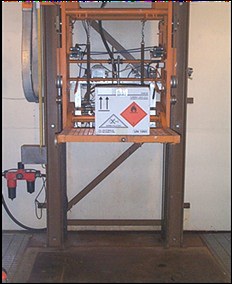 Since 2002, Impact has tested 1,000 batches of containers from across the globe to be used for transportation of chemicals or other hazardous materials. These tests are the final approval that the container is safe to use. Surprisingly, Impact's results (1) have shown that around 25% of these "final" tests have produced failures, requiring new product commercialisation to be stopped whilst the container is redesigned or reconfigured. Such unplanned failures delay product launches with the associated losses in sales revenue, whilst generating additional costs in redesign, prototype manufacture and re-testing. Impact's testing capabilities and support is therefore very cost effective versus cost of failures, particularly if the Brand value is threatened.  (Ref 1 – Impacts report on packaging failures 2003 –2010)
 Package Design:
Although UN testing of containers is stringent, it is possible to design and make products that pass every time. Impact's experience has shown that failure to meet the test standards can arise from a variety of reasons, most commonly:
Unsuitable resin selection
Design flaws
Poor manufacturing control
Unsuitable or poor closures
Changes in paper supply for Fibreboard
 Impact's UN Packing Testing Services:
Impact can advise and support customers at all stages of new product development and give quick and effective feedback on all testing work in order to maximise the value of the information gained. Testing includes :-
Neck design
Cap integrity
Impact resistance
Wall stiffness
Regrind content
Pinch off
Mono layer vs. Multi layer
Optimum processing
ESCR
Permeatation
Resistance to chemicals
Impact is trusted to protect the brand of some of the worlds largest companies in consumer goods and chemical and related industries. In this way, the brand names are protected from highly costly and embarrassing product failures .
Impact can be regarded as your long term specialist provider in UN packaging testing and can provide all the advice and support required to meet the regulatory standards and then remain fully compliant thereafter. Its all part of our dedicated service to the packaging sector.
To learn more about how Impact Solutions can help you with your UN package testing, please contact Gregg Falconer on +44 (0) 1324 489182 or
gregg.falconer@impact-solutions.co.uk