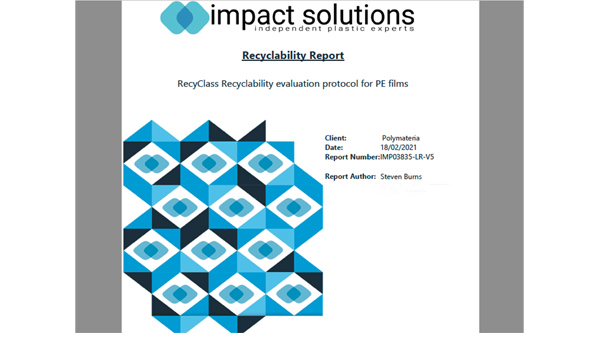 Impact Solutions were asked to undertake testing, by Polymateria, on the compatibility of polyethylene (PE) containing Polymateria's Biotransformation additive technology within the recycling process. The tests were carried out in our independent laboratories that run analysis on different samples, following the procedures of the RecyClass Recyclability Evaluation Protocol for PE films.
PE films make up a large proportion of the food (primary) packaging as well as secondary packaging, such as shrink and bubble wrap. They help in keeping goods fresh and prolong their shelf life, whilst also providing protection during transport. Despite being a ubiquitous plastic packaging product, their availability of recycling remains inconsistent depending upon the geographical region within Europe. Nevertheless, where they are collected, sorted and recycled it is often in high volumes making it necessary for new or innovative PE films to be compatible.
Polymateria is actively working on innovative packaging solutions that support the recycling processes. It is because of this that Polymateria engaged with Impact Solutions to perform the RecyClass protocol upon these Polymateria-PE films to evaluate the effect of this new packaging technology to help the industry to ensure recyclability of new products entering the market.
You can view the full report below.
IMP003835-LR-V5