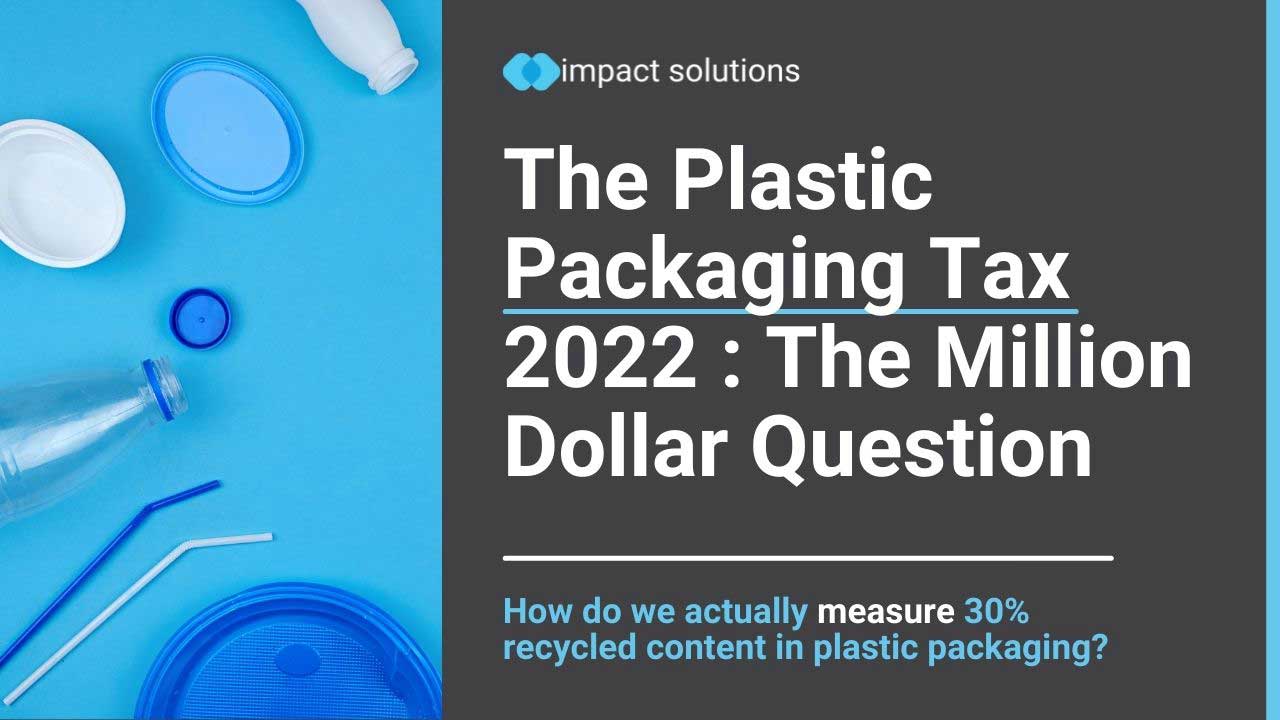 The COP26 climate change summit is here and the UK government has already announced plans on an upcoming green packaging levy. The Plastic Packaging Tax 2022 is a major focus for industries. The Plastic Tax 2022 will come into force on 1st April 2022, affecting plastic packaging containing less than 30% recycled plastic content.
A glimpse of the Plastic Tax 2022
The Plastic Tax 2022 will apply to plastic packaging manufactured in or imported into the UK that does not contain at least 30% recycled plastic. The Plastic Tax 2022 includes products such as; single-use food containers, plastic bags and even biodegradable, compostable and oxo-degradable plastic packaging. Plastic packaging that does not comply with the Plastic Tax 2022 will be charged at £200 per tonne by the HMRC.
Who is affected?
The Plastic Tax 2022 will apply to businesses who
manufacture plastic packaging

import plastic packaging or

import filled plastic packaging
that consist of less than 30% recycled plastic content in a volume of more than 10 tonnes within 12 months. You can learn more about packaging that is exempted from the Plastic Tax 2022 here.

The Million Dollar Question – How to measure recycled plastic content?
The Plastic Tax 2022 will provide a clear economic incentive for businesses to use recycled plastic in the production of plastic packaging. It is a part of the efforts to reduce the use of virgin plastics and increase the use of recycled plastic materials. However, how do we confirm the percentage of recycled content used in plastic packaging to ensure the legislation can be enforced fairly and accurately? Businesses can technically pay this tax to bypass using at least 30% recycled plastic content in their packaging products. Nevertheless, consumers have the right to choose their products the same should apply to packaging options. Therefore, the transparency into the packaging components should be made clear through a credible certification scheme.
Currently, there are no existing standard methods to physically determine the recycled plastic content of a product, which means upon the launch of the Plastic Tax 2022 it will be difficult to enforce it practically.
How we check for 30% Recycled Plastic Content
Impact Solutions is a part of Project RECORD (REcycled COntent R&D) that won a £750,000 government contract to develop a standard, in conjunction with the British Standards Institution (BSI), Sustainable Certification Group and other industry leaders. The project is crucial to ensure companies are taxed appropriately proportional to the virgin plastic content used in products. Project RECORD is motivated to create greater demand for recycled plastic by providing a standard to verify claims. Subsequently, it can stimulate the increase of recycling and collection of plastic waste, thus reducing pressure on landfills or incineration.
Impact Solutions has already demonstrated the feasibility to identify the percentage of recycled content in Polypropylene (PP), Polyethylene (PE) and Polyethylene terephthalate (PET) using conventional test equipment. Our method includes looking into the thermal histories, additive inclusion, and other properties of the packaging. 
Project RECORD is a success and Impact Solutions has successfully developed a testing method that will directly measure the PET-recycled content in plastic products. The British Standards Institution is currently writing the standard with an aim to publish it in February 2022; in time for the launch of the Plastic Tax 2022.
What steps does your business need to take?
Familiarise yourself with the 

scope

 of the Plastic Tax 2022

 Assign a designated person to be responsible for Plastic Tax 2022 Compliance
Stay ahead of the upcoming BSI standard we helped develop by speaking with 

our experts

Prepare and train your staff about the Plastic Tax 2022 to ensure compliance across your entire business
Stay updated with 

our collaboration

 with the Sustainable Certification Group (SCG) for the upcoming certification process
To enquire about our services and to learn more about the Sustainable Certification Group contact us at: info@impact-solutions.co.uk / +44 (0) 1324 489 182.