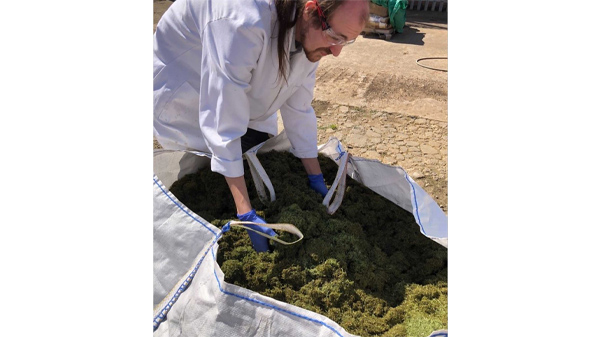 impact solutions have successfully developed panels from recyclate which have all been fully tested to ensure they better current SOA.
As impact solutions have extensive proficiency in innovation, they are fully equipped to carry out their vast array of services to the highest standards. With their world-class science and engineering skills, they continuously work with countless organisations to develop exceptional solutions for an assortment of unorthodox specifications. This has resulted in impact being able to make new strides for a variety of industries, particularly within sustainability.
Pitch2Panel
In impact's most recent project, Pitch2Panel, impact teamed up with leading UK synthetic turf provider Sportex as well as the Polymer Processing Research Centre of Queen's University Belfast.  They faced the challenging task to convert waste synthetic-turf into panelling to be used in pitch side back and kick boards.
impact solutions's role was to help Identify and develop the separation technic within Sportex's recycling process as well as the method for processing the recycled material from plastic separation to extrusion. impact then carried out a full suite of testing on the recycled materials to ensure it met end-user requirements.
Through their comprehensive testing, the team managed to effectively develop panels from recyclate material to better performance properties than current SOA. This has enabled Sportex to provide a full circular lifecycle solution for plastic synthetic pitches, minimising its overall environmental impact. By adopting a collaborative approach to the challenge, the team have been able to see Pitch2Panel through from idea to the point of commercialisation, and in doing so exceeded the expectation on the final performance of the material.
Contact us today!
Ultimately, impact solutions have the capability to deliver exceptional bespoke material testing services. They strive on making further advancements within various industries and are able to provide comprehensive testing for a variation of unique requirements.
If you would like to keep-up-to-date with our progress, follow us on Twitter, LinkedIn and Facebook.