Automotive Testing
independent automotive testing experts
Why use Impact for your automotive testing?
The automotive industry demands the highest quality standards with automotive testing key for quickly getting to market. With all the main car manufacturers having their own set of quality standards, it can be difficult and time consuming for suppliers to understand what is required of their materials.
Impact have years of experience in interpreting the standards, and testing customer materials to the requirements of the top car manufacturers.  Most of the testing is carried out by Impact at our own facilities, however where we cannot test ourselves use our trusted partners.  Impact also hold a 'flexible' UKAS scope for accelerated weathering, allowing us to accredit all accelerated and artificial weathering testing.
When combined with our expert team and experience in plastics and composites, Impact should be your first and only stop for automotive testing needs.
Get in touch today to discuss your needs.
Case Study
Impact was able to bring novel testing approaches and materials experience to bear on the development of a water suppressant mud flaps to replace established market leaders with a more cost effective polyolefin based products to launch a new business of ensuring fitness for purpose.
Robustness, impact resistance and weatherability were the prime requirements which were ultimately confirmed and endorsed. As part of this work a comparative assessment and selection of formulations from emerging Eastern European and Far Eastern manufacturers was performed.
The patented Spraydown mudflap is now being commercialized with interest from truck manufacturers, fleet operators, trailer manufacturers and parts distributors.
Thank you very much for the lab report and the speed with which the tests were carried out. We will certainly be in touch when we have a requirement for further tests!

Tier 2 automotive manufacturer

Superb Service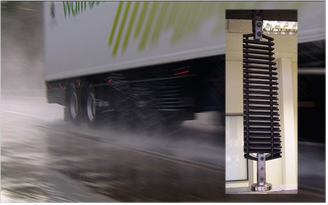 Automotive testing standards
This list is by no means exhaustive and we can carry out testing to a number of different standards.  Please get in touch with your requirements.
| Industry | Standard | Company |
| --- | --- | --- |
| Automotive | SAE J2412 | Ford/ General Motors |
| Automotive | SAE J2527 | Ford / General Motors |
| Automotive | PV 1306 | Volkswagen |
| Automotive | PV 3929 | Volkswagen |
| Automotive | PV 3930 | Volkswagen |
| Automotive | GMW 14162 | General Motors |
| Automotive | GME 60292 | GM Opal |
| Automotive | PF-1 1365 | Chrysler |
| Automotive | VDA 75202 | BMW |
| Automotive | ISO 105-B06 | Porsche |
| Automotive | DBL 5555 | Daimler |
| Automotive | DIN 75202 | Porsche |
| Automotive | 50451 | Fiat |
| Automotive | FLTM EU BO 050-1 | Ford |
| Automotive | GMW 14660 | General Motors |
| Automotive | GM 9125P | General Motors |
| Automotive | ISO 4892-2 | Porsche / General |
| Automotive | GMW 14170 | General Motors |
| Automotive | DBL 7399 | Daimler |
| Automotive | HES D6601 | Honda |
| Automotive | JIS D0205 | Japan Autospec |
| Automotive | ISO 11341 | International |
| Automotive | ASTM D7356 | International |
| Automotive | ASTM D7869 | International |
| Automotive | ISO 105 B10 | International |
| Automotive | VCS 1027, 359 | Volvo |
| Automotive | TSL3600G | Toyota |
| Automotive | TSL0601G | Toyota |
| Automotive | NES M0135 | Nissan |
| Automotive | SAE J 2527 | General Motors |
| Automotive | PV1303 | General Motors |
| Automotive | FLTM B0116 | Ford |