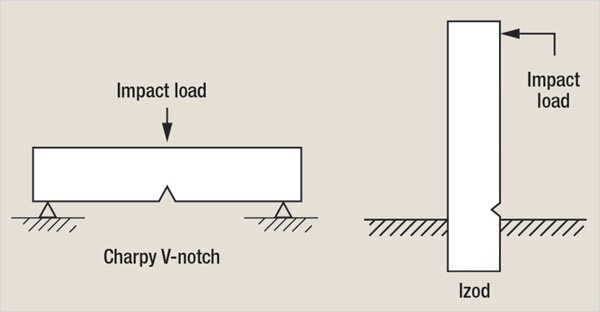 At Impact Solutions we specialise in and perform a wide array of plastic testing including, but not limited to, thermal analysis, tensile, mechanical analysis, environmental testing and impact testing. An impact test is used to measure toughness, capacity to resist the energy of shock loading or a dynamic impact of a product.  Samples inspected under this test method are then checked for signs of deformation, fracturing and ruptures.
One kind of impact testing apparatus comprises of a weighted pendulum with a hammer fixed on the end with the sample placed into a holding fixture. The pendulum is then released (from a known height), where an impact is made with the sample below with a sudden force. This collision causes energy absorption by the sample and that energy is measured using precise equipment to determine the fracture mechanics of the sample.
The results from impact testing are critical in understanding a sample toughness and predicts how much energy it will be able to withstand before complete failure. A materials toughness is extremely important for the applications of its future use, for example within the construction, industrial or military markets.
The two main types of impact testing using a pendulum are Izod and Charpy, both tests are very similar but there are notable differences:
The Izod impact testing holds the sample vertically with the notch facing the pendulum.
The Charpy impact testing holds the sample horizontally with the notch facing away from the pendulum.
See below for a list of impact testing standards:
| | | |
| --- | --- | --- |
| Test/Activity | ISO | ASTM |
| Izod impact | ISO 180 | D256 |
| Charpy impact | ISO 179 | D6110 |
| Determination of puncture impact behaviour of plastics | ISO 6603-1 | D5628 |
| Determination of puncture impact behaviour of plastics-instrumented method | ISO 6603-2 | D5420 |
| drop weight impact test-plastic pipes | ISO 3127 | D2444 |
| Drop dart impact testing | ISO 7765 | D1709 |
| Determination of fracture toughness, linear elastic fracture mechanics (LEFM) approach | ISO 13586 | |
Through the laboratory, Impact Solutions have extensive capabilities and experience in plastic testing.  Our facility houses a mix of state of the art plastic testing equipment and bespoke designed plastic testing rigs allowing us to undertake a wide range of different test techniques on plastics.
Much of our plastic testing is covered under our UKAS scope of accreditation for laboratory 0402 in line with ISO 17025.  Our team boast over 100 years of combined experience in plastic testing and our laboratory has racked up more than 6million hours of plastic testing data since 2002.
Whether you know exactly what testing you require, or you're unsure of the right testing route our team of experts are on hand to guide you through the various plastic testing programmes to identify the best one for you and your product.  All our testing programmes include full reports including the method of plastic testing and a full analysis of results and further recommendations.  All of our testing is performed by our expert staff and can be trusted thanks to our UKAS accreditation and 100% independence, while we pride ourselves on offering the best customer experience in the industry.