Plastic Free July
Plastic free July is a global movement that aims to increase the awareness of plastic pollution. As part of Plastic Free July, impact solutions want to express our knowledge and expertise in plastics and polymers. Given that we have thousands of hours' worth of plastic testing data behind us, we want to help provide a deeper understanding of plastic and how they continue to be useful for society today. As there are a lot of misconceptions and inaccuracies when it comes to plastic, we aim to support this movement by providing a deeper understanding of environmental matters.
What you might not know about plastic
Plastic pollution is a vastly popular subject, especially over recent years. With increasing pressure on our landfills, there are a lot of benefits to finding new and alternative ways to minimise our environmental impact. With countries going as far as to ban plastic, and movements such as Plastic Free July, there have been tremendous efforts to eradicate this material. Yet, plastic remains a crucial part of our society and is still frequently used in every sector, such as packaging, building & construction and various others.  Numerous different types of plastic are also being constantly innovated to help revolutionise industries. For example;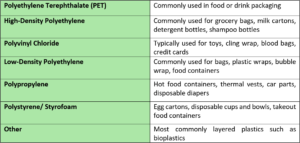 The above materials are some of the most durable and lightweight materials and are essential for the production of commonly used goods. Plastic is also widely capable of being recycled. The issue, however, lies in how plastic is being disposed of. To help consumers understand the best ways to discard plastic, there needs to be clearer communication and education around appropriate packaging labels. Having clearer communication and more education will enable the consumer to understand and manage plastic waste more clearly. Thus, ensuring that plastic waste is being disposed of in the correct waste management streams.
Nonetheless, we need to remember that recycling is not the only option and is not enough to minimise pollution. By referring back to the "Reduce, Reuse, Recycle" slogan, and following the slogan's hierarchy, we will be able to minimise the volume of waste. Therefore, reducing the amount we consume, reuse existing items more frequently and then recycle as a last option. By following the three 'R's there will be a significant reduction in the need for single-use plastic, e.g., cutlery, plates, cups etc. and will help in significantly reducing the impact that single-use plastics are having on the environment.
Is paper the new plastic?
Paper has been, for many years, an alternative to single-use plastic and it is becoming ever more popular resulting in rapid behavioural changes by consumers.  This demonstrates that society cares about the environment and, with awareness increasing because of Plastic Free July, are willing to make a difference. However, if paper is not clean, then it cannot be recycled. Therefore, once it is wet, or contaminated in any way, much of it is wasted, particularly straws. Similarly, as paper cannot be reused as frequently as plastic, we would need to cut down far more trees in order to reach demand. This would greatly reduce the intake of CO2, causing detrimental harm to our atmosphere. Therefore, should paper be used as an alternative to plastic or should we use alternative methods that reduce the need for these materials altogether?
Likewise, in response to environmental demands, many experts have trialled and tested various alternatives to conventional plastics, such as bioplastic. Due to the perception around bioplastic, it is considered as a solution to our plastic problem. However, there is currently a lack of robust recycling infrastructure for bioplastics. This means they would need to reach industrial composters or home compost for them to break down after use, which is not always guaranteed to happen. At impact solutions, we offer a range of bespoke testing to assess the biocompostability of plastic under various environmental conditions. By offering a range of bespoke testing, we are able to assess these materials under various conditions to identify their level of biodegradability.
To learn more about bioplastics, head to our blog here.
Our capabilities
As the innovative use of plastics and composites is rapidly increasing, impact solutions use our expertise to provide a comprehensive and superior service. By supporting our customers from concept through to commercialisation, we are able to assist your product development journey by making sustainability, safety and reliability our priority. As a UKAS accredited lab no.0402, we are committed to providing excellent and reliable testing to our customers across the globe.
Whether you know your exact test requirements, or you need help identifying the right solution, our team of experts are on hand to guide you through the various plastic testing programmes suitable for you and your product. All testing programmes include full reports explaining the method of material testing and a full analysis of results, alongside further recommendations.  All of our testing is performed by our expert staff and is reinforced thanks to our UKAS accreditation and 100% independence.
Contact us today
We pride ourselves on offering the best customer experience in the industry! So feel free to contact one of our experts to learn more about our plastic services: info@impact-solutions.co.uk / +44 (0) 1324 489 182.
If you would also like to learn more about plastic and our testing capabilities, follow us on Twitter and LinkedIn.